European Society of Surgical Oncology (ESSO) Awards 2019
Lifetime achievement award for 2019: Prof. Dr. Emiel E.J.Th. Rutgers (NL)
On Wednesday the 9th of October at 13:00 during the opening session of the ESSO 39 Congress in Rotterdam, the Netherlands (9-11 October), ESSO will proudly present the ESSO lifetime achievement award to distinguished recipient Prof. Dr. Emiel E.J. Th. Rutgers (NL). The prestigious ESSO Lifetime Achievement Award recognizes international research by individuals that demonstrate commitment to clinical cancer research and/or education. It is awarded as a recognition for outstanding lifetime achievements in surgical oncology. Prof. Dr. Emiel Rutgers professional life has been fully dedicated to the advancement of surgical oncology as a discipline, and he has led a fruitful activity in clinical practice, research, teaching and leadership in this field.
Prof. Dr. Emiel Rutgers is the author of more than 300 articles and book chapters on different aspects of breast cancer. His main field of interest, breast cancer research in prognostic and predictive factors, risk management and prevention, and optimisation of surgical procedures including neo-adjuvant chemotherapy, sentinel node procedure and immediate breast reconstruction. Prof. Dr. Emiel Rutgers gained his medical degree in 1981 from Utrecht University, The Netherlands. Currently, he is a Surgical Oncologist at the Netherlands Cancer Institute in Amsterdam (since 1987), Head of the Department of Surgery (since 2006) and Professor in Surgical Oncology at the University of Amsterdam. He earned his PhD degree in 1986 at the University of Amsterdam. ESSO looks forward to honouring this noble Dutchman to a home audience in his beautiful host country of the Netherlands at ESSO 39 in the city of Rotterdam, and hopes all congress attendees will join us in the celebration of his achievements and services to the international surgical oncology community!
---
ESSO medal for 2019: Prof. Dr. Peter Naredi (SE)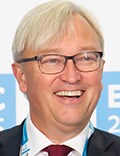 On Thursday the 10th of October at 9:30, during the Presidential session of the ESSO 39 Congress in Rotterdam, the Netherlands, ESSO will be honoured to announce the recipient of the ESSO medal: Peter Naredi (SE). The ESSO medal is awarded to a single individual to acknowledge his/her contribution to the advancement of surgical oncology through research, education and/or leadership in clinical practice and international cooperation. For 2019, the ESSO medal is awarded to Prof. Dr. Peter Naredi in recognition of his commitment to surgical oncology and outstanding contribution to the development of ESSO, its mission and objectives.
Peter Naredi is Professor of Surgery and Head of the Institute of Clinical Sciences at the Sahlgrenska Academy, University of Gothenburg. After medical school at the University of Lund he trained as Resident in surgery. After defending his thesis on Tumour blood flow at the University of Gothenburg he did his postdoc at the Cancer Center, University of California, San Diego, USA. In 1997 he moved to the University of Umeå and was appointed professor of surgery and chairman of the academic unit of surgery in 2003. He has specialized in cancer surgery, especially hepatopancreaticobiliary surgery and melanoma. In 2012 he moved back to the University of Gothenburg and the Sahlgrenska university hospital. His main research areas are in clinical and basic research of cancers in the liver and pancreas. He has over 130 publications in highly ranked journals as the Cell, Lancet Oncol, JCO, PNAS, Nature Med, Nature Rev Clin Oncol, Cancer Res and Clin Ca Res.
Peter Naredi was for many years part of the ESSO educational and training committee and he has been president of ESSO and also of the European Cancer Organisation (ECCO), the Swedish surgical society and the Scandinavian surgical society.
---